I'll be honest: I love the ska band Suburban Legends. Their music is upbeat, they do dance routines at their shows, and they cover Disney songs. I've probably seen them live about 10 times, because they've toured with The Aquabats, Streetlight Manifesto, and Reel Big Fish, and they're easily one of the most fun bands I've ever seen.
They play Disney covers, in Disney Land! (photo from their Facebook page)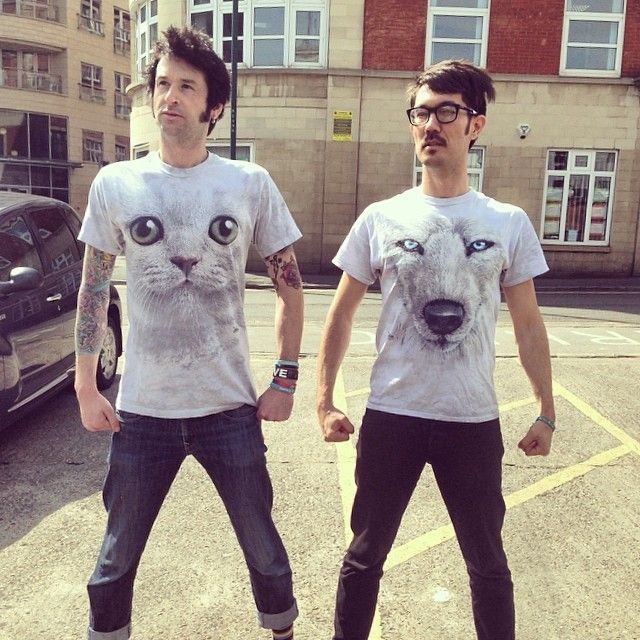 And they do silly things like this! (also from their Facebook)

But, sometimes, their music bothers me. Specifically, the way their music portrays women bothers me. Sometimes, it's just little things, like how they refer to women in their songs. Here's some examples:
"Don't be a faker come on be my baby maker" ("Blingity-Bling" - 2003)
"She's a demon at best with a kiss" ("Mean Girl" - 2006)
"That something so fine is alive" ("This Cherry" - 2006)
"You are my toy" ("Trophy Wife" - 2007)
"Baby girl" ("Infectious" - 2007)
"I like to chase that tail around" ("Unbelievable" - 2008)
"Shorty I think about you" ("Together" - 2008)
"I got a honey on my mind" ("Let's Be Friends" - 2008)
They refer to women as objects (almost always sexual), as infantile, or as evil. Only a few times do they actually refer to women as "woman" or by name (Teresa in "Together" or Natasha in "Natasha").
Most of the songs aren't that bad. Sometimes it's just a small part of the song, a throwaway lyric here and there. The song "Desperate" from 2002 says, "Cuz if you don't call then I'll probably rent-a-date / and my tab keeps rising cuz I do it every day ... And I got 20 dollars what can I get for that?", implying that women are just objects to be purchased for sexual purposes.
"High Fives" is a really catchy 2003 song that says, "When you're hangin' with the bros it's guaranteed sex at the prom." Sex is never guaranteed, not on prom night, not on Valentine's Day, and not on your birthday. Men do not have the right to a woman's body, ever. At the end of the same song, it says, "Props to the homies in the field / Well your best friend finally copped a feel," celebrating a man's conquest over a woman's body in an encounter in which she has no agency. Did the woman consent to being fondled? We don't know, and the point is: it doesn't matter.
"Golden Touch" from 2006 implies that women are corrupted and evil who ruin everything they touch: "Everything she touched it turned to gold / Her powers suck from her finger tips / Infecting people with their dirty tricks / You can't escape this metallurgy / Once was yours now just a fantasy."
"Mean Girl," referenced above, is also questionable. The lyrics are: "Got my heart locked tight in a safe / Where your sticky little fingers can't get it anymore / Cuz you / Were such a mean girl to me / I keep you out at arm's reach / And now I know what's wrong with the world / Tellin' everybody don't ever trust a girl / Take a look at her face / All the money that she wastes / It's not worth my time or the pain / She'd find a thousand ways / Just to ruin every one of my good days / Baby girl's much worse than she knows / She's a demon at best with a kiss / And this demon's got me by the / Throat and I don't think she'll ever let it go." Because clearly a woman is "not worth" it if she takes the time to take care of herself and the way she looks. And if one woman hurts you, then none of them can be trusted. And "demon"? Really? Ugh.
"Infectious" from 2007 really bothers me. It says, "Now shut your mouth cuz it's gonna happen fast / You can close your eyes baby but it's gonna be a blast." It may be just me, but this sounds like what a rapist tells his victim. It reminds me of the time Governor Corbett voiced his support for forced ultrasounds on abortion patients and told them if they don't like it they can just close their eyes during the procedure (
http://thinkprogress.org/health/2012/03/15/444999/pennsylvania-governor-supports-ultrasound-bill/
). Not cool.
Then there's "Trophy Wife" from 2007 that straight up sounds like an abusive partner. The singer introduces himself to a woman: "Hello madame, I'm here to be your man ... Can't you see there's no other, ever loved you better / Come with me, and you'll see that I'm all you need ... Trophy wife, care not 'bout your strifes / I'm the only family you'll ever need / Get back, get back it's me you love the most / You don't need to talk to all these people that are close ... You are my toy, closed doors inside a bedroom." Abusive partners control their significant others by saying some of these very things: no one loves you like I do, you don't need anyone else, your family/friends aren't important. I don't even know what to say about the part about the toy closed inside his bedroom - besides that it creeps me out.
A lighter example comes from the 2008 song "Girl's Got What I Want." It goes: "That girl's got what I want / But shorty won't give it to me / If I stop playing the games / I'm gonna end up on the losing team / Hey little lady / Don't give me the / Run around, run around / I know you got your spell / On a lot of young boys / Around this town / And I kiss my hand to the sky / And I say / 'Girl is not that fly.'" Aside from the fact that I really hate the demeaning term "shorty" for women, it's ridiculous that the singer says he wants the woman until she rejects him - then he says she's "not that fly" anyway. Men do this on the streets all the time: flirt with a woman until it's clear she isn't interested, and then put her down as ugly, stupid, or bitchy. Childish at best, controlling at worst.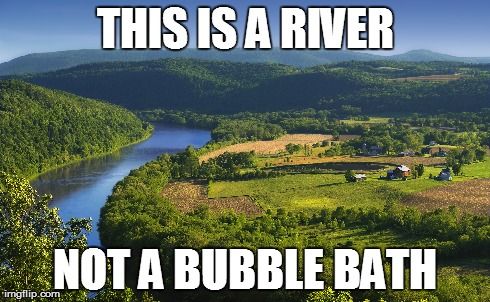 Why can't they have more lyrical gems like this? (picture courtesy of Wikipedia.org)
I've got a couple problems with the 2008 song "Let's Be Friends." Part of the chorus for this song is: "When all I hear is let's just be friends / Shorties all sing it loud / Let's be friends." I'm honestly tired of hearing about this "friendzone" shit. Women's friendship is not a lousy consolation prize, and we are not obligated to be in a relationship with you just because you're "nice" to us. "Girls are not machines that you put Kindness Coins into until sex falls out" (as succinctly quoted here:
http://fozmeadows.wordpress.com/2012/04/09/lamenting-the-friend-zone-or-the-nice-guy-approach-to-perpetrating-sexist-bullshit/
). Then there are these two gems: "The game never works when your heart's in the right place" and "Better seal the deal before she gets to know the real you." This is just awful: pessimistic, manipulating, and defeatist advice. I would advise the exact opposite - be yourself - because there are like-minded people everywhere, and there are bound to be people who would be interested in "the real you." Lying and scheming are bad ideas if you're looking for a solid relationship. This song may be catchy, but I really don't like the messages behind it.
I have the same problem with the 2012 song "Take the Next Step." Just the first two lines alone tell most of the story: "We've been friends for so long / Maybe it's time we thought about dating." Again, this is a part of the bullshit "friendzone" idea that men are only interested in friendships with women so that the women will date them. That is simply not how friendships work. See above. On top of that, the chorus "Is it worth it? / Yeah I think it's worth it too" makes it sound like he's not even taking the woman's perspective into account - that it doesn't matter if she agrees with him or not.
Most of these songs I've already listed, I don't mind that much. I can still listen to them and enjoy them. These last two really bother me though. Take these 2008 lyrics from "Took My Breath Away": "Don't answer my calls so I'm hanging out / Hanging out in front of your house tonight / Some'ing needs to click to tell me that I'm being creepy / But that ain't right, cuz I'm pretty sure she needs to see me / Could you imagine a girl who'd slay the dragon / Is what they say when I wouldn't stay away / It's not a fake out, girl I came to make out / I'm pretty and harmless until I force my way to your life." This is a clear cut example of a stalker: waiting outside a woman's house to watch what she's doing, with the not-so-subtle threat of forcing himself on her, and all the time acting like he knows better than her ("I'm pretty sure she needs to see me"). This is not only "creepy," it's encouraging violence against women.
This is the last song, and the only one that I really can't stand to listen to. It's the 2012 "Girlfriend's Pretty," and it goes like this: "Please forgive my dirty mind / Cuz I think of her naked all the time / Stalking her's my specialty / As long as her boyfriend doesn't see me / I'll follow her to her car / As I watch in the bushes from afar / Desperately just wanting her to look at me / Please don't think that I'm creepy / You'll learn to like it, I swear it's just flirting / She's got a man and that's alright / Cuz I admit it I like to fight / And I'm thinkin' / Would it be alright if I said / Your girlfriend's pretty, right / You know she's outta sight / Her skirt was super tight / The one she wore last night / She's wonderful, she's magic / Her rack is so fantastic / And I do believe / She's wearing a thong." Same problem as the previous song: stalking and violence against women is not cool, it's not "flirting," and it is most definitely "creepy." What's also creepy is all the descriptions of how the woman looks, her body parts, and what she's wearing. Why would we as listeners even want to hear that? Then there's this part: "I think it's wonderful you've got a trophy girl / Why don't you lighten up and share her with the world / Or you can let her go and give her all to me / So that way, I'm the one who's happy." This indicates that women are objects to be owned or given away. It also implies that the health and happiness of the woman is not important, only that of the boyfriend is ("I'm the one who's happy"). An upbeat melody and good beat is not enough to save this song; the lyrics are so bad that I just don't like to listen to it.
Obviously, Suburban Legends wrote some problematic lyrics that I don't like. But overall, I still really like this band, and I've given them a lot of my time and money for concert tickets, merchandise, and cds (not to mention that my partner purchased an amp from their guitarist). Do they care that they have a lot of female fans that might or might not care about their sexist lyrics? Do they just think it's a joke? I don't know; maybe I'll post this on their Facebook page and find out. I would love to hear their point of view on this matter.
My partner and I with three of the band members
I would also love to hear more songs about friendships with other bands ("My Friend"), happiness ("Just Be Happy"), joy rides ("Bright Spring Morning"), music genres ("Alternative Is Dead"), dogs running away ("Come Back Home")...pretty much anything that doesn't have to do with women and trying to get laid. Seriously.